Our Team
What is The Wellness Experience….. well it began 17 years ago when Dr. Randy Laurich had a vision to create a healthcare facility that would maintain the original Chiropractic principles while adding the latest technology to help improve people's quality of life.
A ChiropracTOR is trained to locate, analyze, and correct vertebral subluxation. This means they find where nerve interference is along the spinal column, they enter a gentle force to change the structure of the spine allowing the brain to better communicate with the rest if the body. Chiropractors assist the body in healing itself.
The Wellness Experience is also a holistic home for other practitioners preforming theIr own services. Our skilled and knowlegable team members currently include a massage therapist, nutritionist, fitness trainers and esthetician services.
While combining the traditional intentions of chiropractic with today's technology, Dr. Randy and his team of professionals continue to help patients everyday to improve fuction, reduce pain and increase a person's overall quality of life.
Seventeen years later, WE (The Wellness Experience) are helping you to get well and stay well.
Dr. Randall F. Laurich, Chiropractor
In 1998, Dr. Randall Laurich, graduated from Sherman College of Straight Chiropractic. He opened his first practice The Wellness Experience, Inc., in Boca Raton in 2001. After, 5 years of success in Boca, he opened his seconded location The Wellness Experience of Wellington, Inc. After running both offices for 2 years he felt a need to, live, and play in the same town. He sold his Boca office and has maintained the Wellington office for the past 10 years. In an attempt, to help others become successful he has structured The Wellness Experience franchise model and has formulated a Chiropractic coaching program called Chiropractic Adventures. This program will encourage community leadership and philanthropy, while helping doctors to create successful business relationships leading them to success.
Dr. Laurich has been a member of The Wellington Chamber of Commerce for the past 7 years.   He helped to to create The medical, health and wellness Committee for the chamber, which has hosted multiple health and wellness events. He has been the Chairman and co-chairman of Winterfest from 2010-2014. Dr. Laurich has sat on the Board of Directors for the Chamber of Commerce for the past 3 years and was the President for 2014-2015 term. Dr. Laurich was among the celebrity judges for 2014 Flavors of Wellington a Chamber Signature event.
Dr. Laurich was among 25 candidates attempting appointment for a Wellington Village Council seat in 2015.
Dr. Laurich has served as an administrative volunteer for The American Cancer Societies Relay for Life from 2012-2015. Helping to raise over 100,000 dollars.
He resides in Wellington with his wife Lorraine and two children Hudson and Sophia.   He has coached and sponsored local recreational activities for his children.
He is a member of The International federation of chiropractic and organizations, and the Florida Chiropractic Society.   He is On the board Reagents for Sherman College of Chiropractic.
He is also a member of The Palm Beach Ski Club. Dr. Laurich also maintains an active networking organization which he co-hosts monthly call Network to Get Work.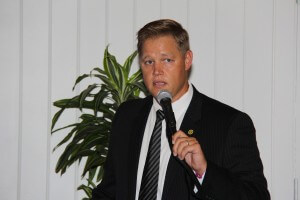 Dr. Victoria (Tori) Cunnea
Dr. Tori grew up in Port St. Lucie, Florida. During that time as a child and teen, several of her family members were dealing with various illnesses. Having to witness their suffering made Dr. Tori realize that she wanted to break the cycle of disease in her family and in other families as well.
While in college Dr. Tori attended a health fair and happened to meet a chiropractor who explained chiropractic care and the importance of a healthy spine to her. Dr. Tori said, "I fell in love with chiropractic care when I found out that their techniques for healing actually help the body unleash its ability to heal itself."
Dr. Tori has a B.S. in Biology from Shorter College and she graduated from Sherman College in Spartanburg, South Carolina in 2015. She is certified in Grostic Upper Cervical Technique and believes in a "less is more" approach to treating her patients.
Dr. Tori met her wife Halley while attending college and they are both proud parents to Tallia who was born with a heart condition and who is in the picture with her here to the right. Due to her first hand experience dealing with a baby that has special needs, Dr. Tori is very compassionate and passionate treating babies and children …. especially those who need that bit of extra care.
Dr. Howard Stoller
A licensed Acupuncture Physician, OMD, M.D.(M.A.), LMBT, Jensen International Certified Iridologist, Wholistic Healer, Food Therapist, Herbologist, personal trainer and Life Coach, I have been practicing in the healing arts for more than 30 years. With Acupuncture and Oriental Medicine and the myriad modalities within its Scope of Practice I can treat and help manage many different aspects of health including but not limited to pain, degenerative diseases, auto immune diseases, Cardiovascular Health, digestive and eliminative issues, diabetes, menstrual and reproductive issues, headaches weight management problems, smoking and other addictions, emotional and psychological challenges.
Knowing that cancer and other degenerative diseases do not do well in an oxygen rich or properly alkalinized environment I can also help you with detoxification, alkalization and oxygenation to help insure the strength of your defenses.
As a nationally board certified Massage and Bodywork therapist as well, I specialize in musculoskeletal issues and specific conditions such as adhesive capsulitis (Frozen Shoulder).
Add to that, energy medicine, e.g. Qigong and iMRS (Intelligent Magnetic Resonance Stimulation, and I think you'll agree, we've got a lot to work with.
So come on in for a free consultation, sit and sip some tea with me, tell me about yourself and together let's plan a healthy, happy future.
No matter what the issue is that you are dealing with The Wellness Experience has the knowledge, traditional skills and hi-tech equipment to help relieve pain, improve your quality of life and increase your performance!!